Joe jumps his way to victory
Joe McElderry has won the first series of The Jump after rivals Steve Redgrave and Marcus Brigstocke were forced to bow out of the competition after injuring themselves.
This is the third reality TV contest McElderry has won after The X Factor and Popstar to Operastar.
The singer was competing against Sir Steve Redgrave, Marcus Brigstocke and Donal MacIntyre in the final.
But just hours before he was due to compete in the Channel 4 show, Redgrave fell during a practice run.
Having bruised his ribs during a fall last week, Steve decided he was in too much pain to continue and pulled out of the contest.
He said: I'm absolutely gutted. I love skiing, I love the show. I wanted to give it my all and unfortunately I gave it too much three days ago and that was it. It's not the not winning, it's the not completing it.'
But he wasn't the only one; Marcus Brigstocke wiped out during the first Ski Cross heat injuring his knee badly meaning he too was out of the competition.
Marcus said: 'I've had the time of my life. My aim was to do everything and I'm dead proud. I came on the jump and never jumped!'
It was just Joe and Donal left to battle it out in the final Ski Cross heat but McElderry fell too after taking a corner even though he was in the lead.
He managed to make it down although MacIntyre won that round.
The pair then did two jumps with the biggest one to be crowned the winner.
McElderry managed to jump 17.5m beating MacIntyre who only managed 13.5m.
Joe said after his win: 'I have had an absolute blast. We've had so much fun.'
Take a look at Joe's winning Jump, below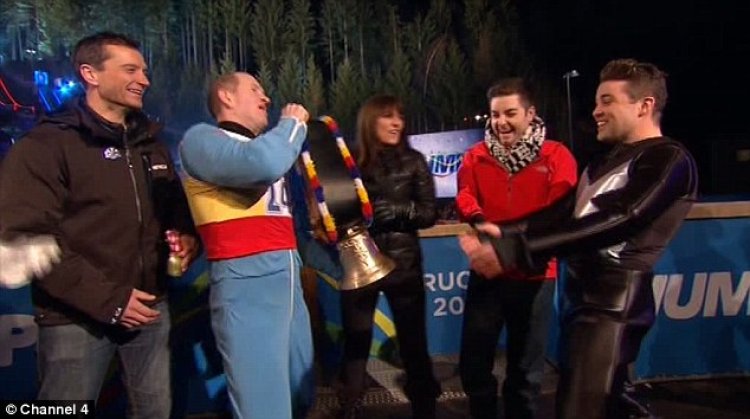 "I have had an absolute blast. We've had so much fun.'"