Joe McElderry joins The Jump
In a surprise twist, last night's episode of The Jump saw X Factor winner Joe McElderry join the line-up after beating investigative journalist Donal MacIntyre in a live ski jump.
Following two months of training, Henry Conway sadly had to bow out of the competition after shattering a small bone between his thumb and wrist in seven places during training for the Skeleton. Henry said "I've had the most amazing time, you come in thinking it's going to be like The Hunger Games but it's a lovely ski family."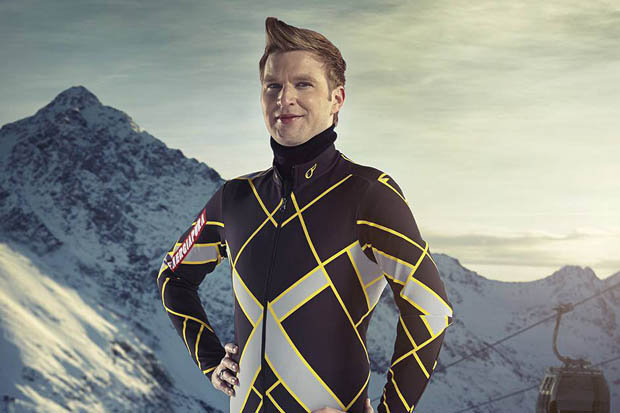 Joe and Donal competed to see who could jump furthest at the start of the show to join the line-up, both taking on the middle jump (K24). Joe jumped 15m, the biggest jump of the series so far, to secure his place in the competition, with Donal only jumping 11.5m.
Joe and Donal have been training alongside the other competitors for weeks and Joe was thrilled to be able to join the competition. Joe will take part in all events after last night's show.
It was then the turn of the four men, Marcus Brigstocke, Sir Steve Redgrave, Darren Gough and Ritchie Neville, to face the twists and turns of the Skeleton, reaching speeds of up to 65mph as they travelled along the track face down to try and hold on to their place in the competition.
Unable to clock up a fast enough time to guarantee their place competition were five-time Olympic Gold Medallist Sir Steve Redgrave and England Cricket legend Darren Gough, who faced the live ski jump. Steve said "It's not what I planned for."
After a series of falls during jump training over the last few days, the pressure was on for Darren to land his jump without a wobble, leading him to decide the jump the smaller K15 but "really jump it". He looked nervous at the top as the tension mounted, but he had luck and skill on his side tonight after weeks of practice as he landed perfectly and secured a distance of 12m.
Sir Steve chose the middle K24 jump and looked confident as he faced the cheering crowd waiting below. He flew down the jump landing a distance of 14.5m.
With Sir Steve landing the furthest he made it through to the next round and Darren became the third contestant to be knocked out of the competition. Darren said: "At least now I can go home and have some Laurent Perrier Rosé!"
The results table:
1. Ritchie Neville - 44.814 seconds
2. Marcus Brigstocke - 45.246 seconds
3. Sir Steve Redgrave - 45.786 seconds
4. Darren Gough - 47.418 seconds
On Wednesday night's show the five remaining ladies will face the Giant Slalom. But who will be brave enough to build up some serious speed on piste to avoid The Jump?
The Jump will return tomorrow night at 8pm on Channel4.